Start main content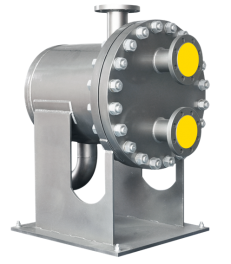 Plate and Shell Heat Exchanger is the latest type of heat exchanger, which combines the high efficiency of plate heat exchanger with the high temperature and high pressure resistance of tube and shell heat exchanger.
Features:
Pressure rating up to 100 bar
100% Austenitic stainless steel 304, 316, 316L or 316Ti, and others when requested
Compact in size with high heat transfer efficiency
Achieve close temperature approach allow optimization of system design
Low maintenance cost
Standard conformity: ISO 9001, GB150 ,BS PD5500
Plate and Shell Heat Exchanger combines the favorable features of the classic design of the Tube and Shell heat exchanger with the high-efficiency design of plate heat exchanger. It is compact in size but acquires high thermal conductivity, making it popular and being widely used in domestic HVAC & refrigerator.
Plate and Shell Heat Exchanger are brazed type heat exchanger, manufactured under ISO 9001,GB150 and PD5500 standard. Materials can be selected from Stainless Steel 304, 316, 316L, 316Ti, 904, Duplex2205 and SMO254 with the most corrosive resistance. The product is fully welded in a compact size so it is safe and reliable. It is highly efficient as it can a withstand high working pressure and achieve a close temperature approach, which the supply temperature can be designed to be close to the demand, hence minimizing the equipment cost.
| | | |
| --- | --- | --- |
| | | |
| ISO 9001 | ISO 14001 | ISO 3834 |