Start main content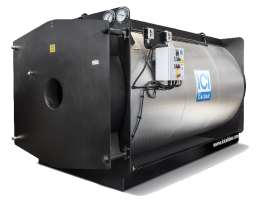 Hot Water Boiler and Steam Boiler are being widely used in commercial and industrial purposes by burning fuel directly to generate hot water and steam.
The product range of ICI Caldaie includes the following:
Commercial Range
Floor standing condensing boilers

Condensing boilers are the most efficient and advanced combustion technology for heating. The operation is based on recovering the heat from the flue gases, which is transferred to the water using special heat exchanging surfaces.

Steel boilers

Steel boilers with high water content are the most efficient solution at a small investment for hot water heating systems.
Industrial Range
Hot water boilers

The ICI Caldaie hot water generators are generators with smoke ducts, available in two types: with three gas passes, and with reverse flame.
All generators feature a high water content, to ensure low thermal loads and reduced consumption, in order to maintain the temperature of the generator and higher durability over time.

Steam boilers

The ICI Caldaie steam generators are generators with smoke pipes, available in two types: with three flue-gas passes, and with flame inversion.
The range includes appliances for instantaneous high and low-pressure steam production.
They are characterised by high efficiency, high steam fraction and high construction standards, in accordance with the strictest regulations.
ICI Caldaie is a leader of industrial and residential heat production system in Europe and Italy. The cornerstones of this development are energy efficiency, environmental sustainability and cost saving for the user. Its product range starts from 20kW and covers up to 20,000kW, which can be fitted nicely for different duties and application.
Website
http://www.icicaldaie.com/
| | |
| --- | --- |
| | |
| Certificate of Authorization | ISO 9001 |